Eagles feed fish to a newly hatched eaglet, the first of two born to eagles dubbed "Mr. President" and "The First Lady" in Washington's National Arboretum.
An "eagle cam" provided live footage of the first bald eagles to nest since 1947 in the Arboretum, a park-like conservatory in northeast Washington.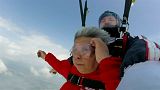 A 70-year-old grandmother has become an internet star in China after she took up skydiving.