Cuban dissidents arrested ahead of Obama's visit
Comments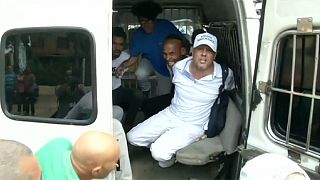 More than 50 dissidents have been arrested just hours before US President Barack Obama touched down in Cuba.
Members of the group, the Ladies in White who protest every Sunday in Havana, hoped to attract attention to their demands for improved human rights in the country.
Members of the Ladies in White marching in Havana on Sunday morning ahead of Obama's visit. 1/2 USATODAY</a> <a href="https://t.co/MAxKj9QA0x">pic.twitter.com/MAxKj9QA0x</a></p>&mdash; Alan Gomez (alangomez) March 20, 2016
They were greeted by hundreds of pro-government demonstrators who shouted 'These streets belong to Fidel', in reference to the former leader.
The disturbance acted to highlight the problems still existing between Washington and Havana, with Ladies in White leader Berta Solder among a group of dissidents invited to meet Obama on Tuesday.