Anti-migrant AfD tipped for success in Germany's 'Super Sunday' elections
Comments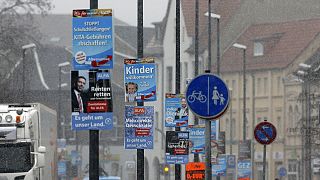 Regional elections in Germany this weekend – the first since the refugee crisis began – are expected to propel
the anti-migrant Alternative for Germany (AfD, "Alternative für Deutschland") party into state parliaments.
We are critical of the massive and uncontrolled flow of immigrants... but that doesn't mean we are hostile to foreigners
One poll has suggested the AfD could win up to 18 percent of the vote in the three regions in a direct challenge to Chancellor Merkel's open-door refugee policy.
The survey for broadcaster ZDF puts the AfD on 18 percent of the vote in the eastern state of Saxony-Anhalt, up one point from last week. It gives the AfD 11 percent support in the industrial heartland region of Baden-Württemberg, and puts the right-wing party on nine percent in the wine-growing region of Rhineland-Palatinate.
The AfD has used slogans such as "Secure the borders! Stop the asylum chaos!", and has benefitted from growing concerns among Germans about migrant numbers and the country's ability to integrate vast numbers of people with different cultures.
"We are critical of the massive and uncontrolled flow of immigrants, and that cannot be a good thing, and we do criticise that influx. But that doesn't mean we are hostile to foreigners," said AfD candidate Sylvia Gross.
One voter explained why she would not be backing Alternative for Germany: "Because they are racist, because they are hostile to foreigners, because they basically undermine what Mrs Merkel does. I am not a fan of (her party) the CDU, but I support her work,"she said.
Another woman suggested she was sympathetic to the AfD's stance.
"I think many people think the same thing, that the AfD cannot change much, I am not 100 percent convinced, but a new direction must be taken," she said.
In recent months Chancellor Merkel has repeatedly rejected calls for caps on immigration, instead backing a quota system for redistributing refugees that has been widely rebuffed by other EU member states.
The AfD, which was originally founded as an anti-euro party, is already represented in five of Germany's 16 regional parliaments.
But it is not yet present in the three state assemblies that will be elected on Sunday – in Saxony-Anhalt whose capital is Magdeburg, in Rhineland-Palatinate whose capital Mainz is near Frankfurt, and in Baden-Württemberg around Stuttgart.
To enter regional parliaments, parties need to go over the threshold of five percent of the vote.
Some German media have labelled the weekend's elections "Super Sunday".