Turkey and Greece share perspective on migrant crisis
Comments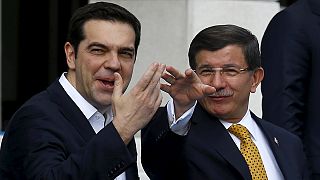 The prime ministers of Greece and Turkey met for talks in the Turkish city of Izmir on Tuesday.
Turkish premier Ahmet Davutoglu told a joint news conference that Turkey shares a common perspective with Greece on the need to share the burden of the migration crisis. He said the two countries have agreed a legal framework for combatting what he called "illegal migration".
Davutoglu also said that a resolution of the division of the island of Cyprus was close.
Cyprus has been split along ethnic lines since 1974.
The international community regards the Greek Cypriot government in southern Cyprus as the sole legitimate representative of the whole island.
Only Turkey recognises a breakaway, Turkish Cypriot administration in the north.