"This will be the last night of an all-white Oscars"
Comments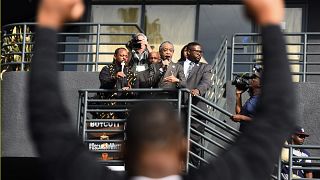 Civil rights campaigner Al Sharpton last night delivered an ultimatum to the movie industry, demanding a more diverse nomination list for the 2017 Oscars.
The man behind the National Action Network, spoke to media and supporters in a parking lot near the Oscars venue warning that film-makers had failed to live up to promises made last year.
"This will be the last night of an all-white Oscars," he vowed, insisting that he was not trying to decide who should win the awards, but merely ensure the nominations were more representative.
During the Oscars ceremony in the Dolby theatre, host Chris Rock make numerous references to the controversy, which sparked n #OscarsSoWhite hashtag and prompted a boycott from stars including Will Smith and his wife Jada Pinkett Smith.
After welcoming his audience to the "White People's Choice Awards", the comedian continued: "Is Hollywood racist?" he asked. "You're damn right Hollywood's racist." but added that it was not "burning cross racist … it's a different type of racist".
Rock also suggested that the lack of diversity was nothing new but had risen to prominence because of an improvement in the overall civil rights situation.
"When your grandmother's swinging from a tree it's really hard to care about best documentary foreign short," he said.