Surfers participate in the rare Eddie big wave surfing event at Waimea Bay in Hawaii.
The Eddie, as it's commonly known, takes place only when waves at Waimea Bay reach at least 20 feet (6 metres) with an event window that runs from December 1 through to the last day of February yearly. The Eddie has only been held nine times since it's inception in 1984.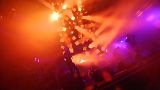 The French city of Lyon's "Nuits Sonores" electronica festival has kicked off for its 15th edition.