US presidential election: Trump scores big win in Nevada
Comments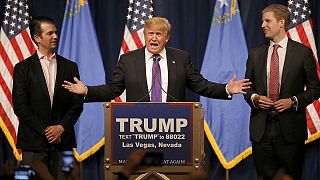 Republican frontrunner Donald Trump has coasted to victory in the Nevada caucuses, marking his third victory in a row in the state by state contests to pick a candidate for November's US presidential election.
Some 20 percentage points ahead of the pack, the Republican frontrunner used his victory speech in Las Vegas to reiterate his best-known policies and pour scorn on President Obama's plans to close Guantanamo Bay.
"As you know, Gitmo, we are keeping that open. We are going to load it up with bad dudes. We are going to load it up with a lot of bad dudes out there," he told jubilant supporters.
"We are going to have our borders nice and strong. We are going to build the wall, you know that… And I have a lot of respect for Mexico. You just heard, we won Hispanics. But let me tell you, Mexico is going to pay for the wall."
THANK YOU NEVADA! WE WILL MAKE AMERICA SAFE & GREAT AGAIN! https://t.co/ClAnLIg0ADpic.twitter.com/zVvyVCIaD4

— Donald J. Trump (@realDonaldTrump) 24 Février 2016
Trump's third consecutive win is a setback to Marco Rubio's hopes of mounting an upset, following the withdrawal of Jeb Bush from the race.
The Florida Senator narrowly beat Texas Senator Ted Cruz in Nevada. But all eyes now are on March 1 and Super Tuesday when a whole host of states will make their choice.
If Cruz or Rubio fail to break through then and Trump triumphs, many will see the billionaire businessman's bid to become the Republican candidate in November's US presidential election as unstoppable.