Fiji: At least 20 reported dead in wake of powerful storm
Comments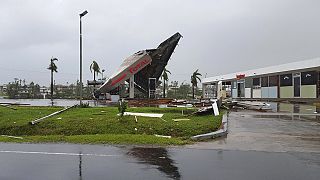 At least 20 people are now reported dead after a powerful storm tore through the Pacific island nation of Fiji.
A massive clean-up operation has started after tropical cyclone Winston flattened remote villages and cut off communications.
It packed winds of up to 325 kilometres per hour when it hit on Saturday.
Fiji Cyclone Winston at least 10 dead as country restore power with a trail of destruction pic.twitter.com/X4WSqjA6er

— Joint Cyclone Center (@JointCyclone) February 22, 2016
Aid agencies warned of a widespread health crisis, particularly in low-lying areas of the country where thousands of the country's 900,000 people live in tin shacks, after crops were wiped out and fresh water supplies blocked.
"Many people have been left stunned and confused about what to do," said Prime Minister Frank Bainimarama, after declaring a 30-day state of emergency.
"This is a time of sorrow, but it will also be a time of action… we will reclaim what we have lost."
Category-5 cyclone #Winston tore through #Fijihttps://t.co/nDvvZ0u9wypic.twitter.com/MlKjPgYpGI

—

NWS

WPC

(@NWSWPC) February 21, 2016