Pope Francis talks tough in Mexico in bid for Catholic progress
Comments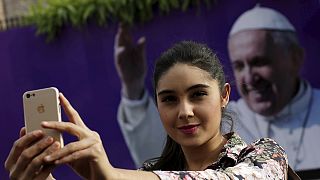 Far from the haves and closer to the have-nots through words and gestures. That appears to be the message Pope Francis has transmitted throughout his visit to Mexico, home to the world's second largest Catholic congregation.
His visit to Chiapas, the southern and poorest Mexican state was also meant to revive the religion as the number of followers has fallen significantly. Mired in poverty and plagued by rising insecurity, the region has fallen far behind other parts of the country economically.
Preaching to a packed sports stadium, the pope drew comparisons between Catholic and indigenous values.
"The most abandoned and abused poor can be found in our oppressed land. We cannot ignore this any more in front of one of the greatest environmental crises in history. In this, you have a lot to teach us," the pope said.
The pope also denounced the "systemic" exclusion of Mexico's indigenous people and encouraged the used of native languages in Catholic worship in a bid to stem a wave of Protestant conversions.
"Your people have been misunderstood and excluded from society. Some have even considered you inferior, (as well) your values, cultures, your tradition," he added.
In the colonial mountain city of San Cristobal de las Casas, the pope prayed in front of the tomb of Bishop Samuel Ruiz, a champion for indigenous rights who served as mediator between the government and Zapatista rebels.
But Francis didn't only address the poor. He also took a message to the country's rich and corrupt elite to lament the fact that some 26,000 people are missing and more than 100,000 others have been killed over the last decade in drug related violence.
"Each time we seek the path of privileges or benefits for a few to the detriment of the good of all, sooner or later the life of society becomes a fertile soil for corruption, drug trade, exclusion of different cultures," he said.
He also had some no-nonsense choice words for Mexican priests who he said should stop acting like princes and move closer to the people.