Chinese artist Ai Weiwei's latest installation has seen life jackets left by migrants on Greek beaches being hung from a Berlin concert hall.
His statement on the EU's handling of the refugee crisis was timed to coincide with the Berlin Film Festival, which has included Canadian filmmaker Denis Cote promoting his latest movie, Boris Without Beatrice.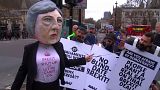 Demonstrators stage a protest outside of the Houses of Parliament ahead of the British PM Theresa May, triggering Brexit with Article 50.