Anti-ISIL summit agrees to intensify attacks on Islamic extremists
Comments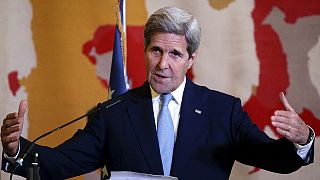 A day-long summit in Italy of 23 nations engaged against ISIL has reviewed the situation in Syria, Iraq and Libya.
Members agreed to intensify their efforts against the Islamic extremists, including more air-strikes, security forces training, and ammunition supplies. Defence ministers meet next week in Brussels to discuss the details.
"So we will keep the pressure on, squeezing Daesh from every single angle, strangling its attempts to establish networks elsewhere, cutting their finances, exposing their lies.
And we are committed to using every resource at our disposal in order to remain on the offensive on every front," said US Secretary of State John Kerry.
Those present were told ISIL had lost some 40% of the territory it had captured, but hosts Italy warned that victory would be about more than just territory.
"We all repeated that we don't need triumphalism, that we must continue our commitment in Iraq, a military commitment to take other cities and important areas from ISIL, and make more efforts to consolidate the freed areas militarily and economically," said Foreign Minister Paolo Gentiloni.
ISIL's advances in Libya are also causing concern. Last month it was able to strike at Libya's precious oil terminals, virtually the country's only source of income, and it is taking full advantage of the post-Ghaddafi political vacuum.