Cologne police chief 'retires' after New Year's Eve mass assaults
Comments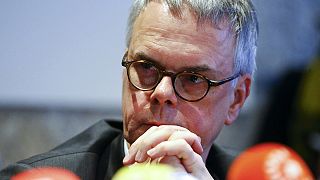 The police chief of Cologne has been "relieved of his duties" following criticism of his handling of a wave of attacks in the German city on New Year's Eve.
The North Rhine-Westphalia state interior minister Ralf Jaeger told reporters he asked the chief to take "temporary retirement" after the violent clashes.
Some of the suspects have been identified by officials as asylum seekers. Critics are blaming Chancellor Angela Merkel for letting in too many migrants.
She said changes may be needed.
"In my view, this has several aspects. One is the question whether our laws are sufficient and whether we should maybe carry out changes. I think there are indications that changes must happen and the (government) coalition (of her CDU and the Social Democrats), the interior minister and the justice minister are discussing just what we could improve."
For many people, the beefed-up police presence around Cologne is not enough to feel safe following the mass assaults .
Some 120 women were mugged, threatened and assaulted by roughly a thousand young men.
Demand for pepper spray and blank-firing guns has soared here and around Germany.
.