Victims speak out after nightmare New Year in Cologne
Comments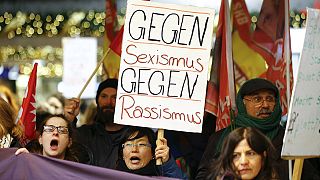 There were protests in Cologne on Tuesday night in front of the cathedral which, along with the train station, was the scene of mayhem on New Year's Eve when a crowd of about 1000 young men, many of them drunk, attacked passersby and police with fireworks, and went on a robbery and sexual assault rampage.
Police say the assailants were of north African or Arabic appearance, a fact born out by witnesses.
"We were fondled, I was groped between my legs. My friends also were fondled. My boyfriend tried to pull me away. There was quite a big group of people, maybe thirty or forty," said one clearly distressed victim.
Men detained by the police said they were firing the fireworks "for fun". But it was no fun for Jenny.
"I heard a sizzling sound in my hood. I somehow tried to get the firecracker out of the hood. Then it fell into my jacket and burned everything. The scars will be permanent. I was lucky that it didn't explode."
Cologne's mayor, herself the subject of a violent attack in October by a man angry at her pro-refugee policies, was quick to deflect blame from the city's most recent arrivals.
"There are no indications that there are people involved here who have received accommodation here in Cologne as refugees," said Henriette Reker.
Chancellor Angela Merkel also expressed her disgust at the violence, but critics of her open door policy to refugees are using the night's events to attack her.