Saudi Arabia breaks off diplomatic ties with Iran
Comments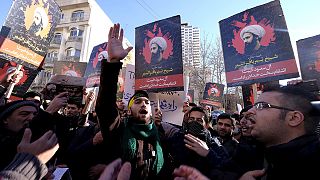 Saudi Arabia has cut off diplomatic ties with Iran following the storming of its embassy in Tehran. Iran's envoy has been given 48 hours to quit the Saudi kingdom.
The escalating row between the rival Middle East powers over Saudi Arabia's execution of a Muslim Shia cleric has caused alarm in the US and triggered a jump in the price of oil.
On Sunday Saudi Foreign Minister Adel al-Jubeir personified Riyadh's hardening stance:
"We are determined not to allow Iran to undermine our security, we are determined not to let Iran mobilise or create or establish terrorist cells in our country or in the countries of our allies."
It's feared the diplomatic rupture between Sunni-ruled Saudi Arabia and Shia-ruled Iran may snowball across the Middle East where the two powers back opposing sides in many destructive wars. Others are already positioning themselves along sectarian lines in support either Tehran or Riyadh.
Iraq, whose Shi'ite-led government is close to Iran, religious and political figures have demanded that ties with Riyadh be severed, calling into question Saudi attempts to forge a regional alliance against ISIL militants which controls swathes of Iraq and Syria.
Washington which is leading a coalition fight against the Islamist extremists has called for 'diplomatic engagement' to reduce tensions in the region.
The prominent Shia cleric Sheikh Nimr al-Nimr was executed by the Saudis with 46 others on Saturday. Most had been convicted of terror-related acts, however Nimr was a well known critic of Saudi Arabia's Sunni royal family and his supporters deny any links with terror groups.
Saudi Arabia claims Sheikh al-Nimr and three other Shi'ites were guilty of involvement in shootings and petrol bomb attacks that killed several police during anti-government protests in 2011-13.