US Federal Reserve raises interest rates for first time since 2006
Comments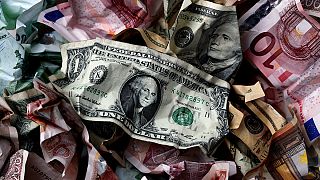 It has been described as the most important Federal Reserve decision for a generation.
As expected, the US central bank has decided to raise interest rates for the first time since before the financial crisis began.
Its Federal Funds rate – which determines the level at which banks lend to each other overnight – rises a quarter of a percent to a range of between 0.25 and 0.50 percent.
The financial markets and most analysts had been expecting a modest hike, the first since June 2006. The Fed had said it would raise borrowing costs when it saw a sustained recovery in the economy. Chair Janet Yellen had strongly hinted at a rise by the year's end – saying it would be more damaging to wait too long.
"This action marks the end of an extraordinary seven-year period during which the federal funds rate was held near zero to support the recovery of the economy from the worst financial crisis and recession since the Great Depression," Janet Yellen told a news conference shortly after the announcement. "The Committee is confident that the economy will continue to strengthen, the economic recovery has clearly come a long way although it is not yet complete."
Federal Open Market Committee statement: https://t.co/NewOjyUBxq#FOMC

— Federal Reserve (@federalreserve) December 16, 2015
The move, which follows a two-day meeting of the Fed's policymakers, is seen as a sign that the US economy is returning to normal after a long recession. During the crisis interest rates were kept at rock bottom levels to try to stimulate the economy that had taken a battering.
Unemployment has fallen to its lowest level for several years – it is around five percent according to the US Labor Department – while inflation remains stuck below the Fed's two percent target.
The Chinese slowdown, a fall in the yuan and tumbling oil prices have perturbed markets but overall markets have been positive in the run-up to the announcement.
Some analysts say more important is what happens next in terms of the pace of subsequent rises. Fed officials have indicated they will remain cautious to nurture the fragile recovery.
This initial hike singles the Fed out from other central banks that are battling to stimulate their economies and generate growth.
Some analysts had argued that the economy was not ready for an interest rate rise just yet and that the Fed is jumping the gun. One risk is said to be that higher rates may also cause the dollar to rise.
Now available: transcript of Chair #Yellen's opening statement from the #FOMC press conference (PDF): https://t.co/Ng9XdJpuQp

— Federal Reserve (@federalreserve) December 16, 2015