Bush vs Hollande: can you tell their speeches apart?
Comments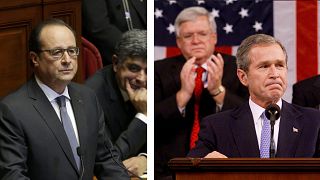 They are two speeches made in the wake of two terrorist atrocities.
But while the circumstances may have been similar, the two presidents who made these speeches are perceived as being two very different politicians: on one hand George W. Bush, a two-term Republican President of the USA, on the other Socialist French President François Hollande.
But the speeches they made 14 years apart – Bush on 20/09/2001, nine days after 9/11 and Hollande on 16/11/2015, three days after the Paris attacks – are remarkably similar in their vocabulary.
We've made a wordcloud of both speeches and here are the key words used most often. Can you tell which wordcloud comes from Bush and which from Hollande? We have removed from their texts certain specific words (ISIS, Syria, Taliban, Afghanistan, Al Qaeda) that would make the answer too obvious. (The answer is at the bottom of the page)
François Hollande, 16-11-2015
George W. Bush, 20-09-2001
(Answer: the top wordcloud in the infographic is of the speech made by Bush, the bottom that of Hollande)