Who were the people behind the Paris bomb attacks?
Comments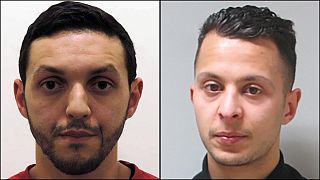 Here is what we know about the Paris attackers and suspects, so far.
Key suspects still at large
Salah Abdeslam
Age: 26
Nationality: French (lived in Belgium)
Born: 15 September 1989
Salah Abdeslam is a key suspect in the Paris attacks and remained at large, as of 25 November 2015.
He is suspected of having rented black VW Polo car used in attacks in Paris.
An international arrest warrant has been issued for him.
Mohamed Abrini
Age: 30
Mohamed Abrini was announced as a suspect on November 24.
Police say he was caught on camera on November 11, two days before the attacks, with fellow suspect Salah Abdeslam at a petrol station on the road to Paris.
Dead attackers: Bars and restaurants
Abdelhamid Abaaoud
Age: 27
Nationality: Belgian
Born: 1987
Died: November 18
Abaaoud, who is believed to have lived in the Molenbeek district of Brussels, was identified as the suspected commander of the Paris attacks. Paris Prosecutors say he returned to the Bataclan club, scene of the most deadly of the Paris attacks, in the hours after the shootings.
He is believed to have been one of the Islamic State (ISIL) group's most active operators, a source close to the French investigation said on Monday.
"He appears to be the brains behind several planned attacks in Europe," the source told Reuters.
He was killed during a police raid in Saint-Denis, northern Paris, on November 18, French authorities confirmed.
He was thought to be close to ISIL leader Abu Bakr al-Baghdadi.
French aircraft targeted Abaaoud in Syria last month.
He was also named by media last year as the brother of a 13-year-old boy who left Belgium to become a fighter in Syria.
Brahim Abdeslam
Age: 31
Nationality: French (Belgian resident).
Born: 30 July 1984
Died: 13 November 2015, Comptoir Voltaire cafe, Paris
He is the brother of Salah Abdeslam, a suspect in the attacks, who remained at large as of Wednesday 25 November.
Brahim Abdeslam rented the black Seat Leon found in Montreuil, just outside Paris, loaded with Kalashnikov rifles.
Dead attackers: Bataclan
Foued Mohamed-Aggad
Age: 23
Nationality: French
Born:not yet known
Died: 13 November 2015
Mohamed-Aggad went to Syria with a group of other young people at the end of 2013, a judicial source and other officials said. Other members of the group that went to Syria were arrested and imprisoned in May 2014 after their return, according to the judicial source and other sources close to the situation. Mohammed-Aggad's older brother Karim, who also visited Syria, is in jail in France, the judicial source said.
Omar Ismail Mostefai
Age: 29
Nationality: French
Born: 21 November 1985, Courcouronnes, south of Paris
Died: 13 November 2015
Mostefai was born and grew up in the poor Paris suburb of Courcouronnes. His family is of Algerian origin.
In his late teens, he became known to police as a petty criminal, getting several convictions between 2004 and 2010, but serving no jail time.
French intelligence services have had a file on him since at least 2010, when he was first flagged as having been radicalised, according to the Paris prosecutor's office.
There are reports that Mostefai travelled to Syria in recent years.
Meanwhile, a Turkish government official claimed that Turkey contacted France about Mostefai in December 2014 and June 2015, but they only received a request for information on him from French authorities after the attacks.
Samy Amimour
Age: 28
Nationality: French
Born: 15 October 1987
Died: 13 November 2015
Amimour had been under official investigation since October 2012, after attempting to travel to Yemen.
Amimour, from Drancy, north of Paris, has been the subject of an international arrest warrant since 2013, according to the Paris prosecutor's office.
He visited Syria in 2013, according to AFP. His father has spoken of how he tried, unsuccessfully, to persuade his son to come home.
Dead attackers: Stade de France
Bilal Hadfi
Age: 20
Nationality: French (Belgian resident)
Born: 22 January 1995
Died: 13 November 2015
Hadfi was from Neder-over-Hembeek in Belgium and had also been in Syria, according to the Washington Post.
Unconfirmed
Age: ?
Nationality: ?
Born: ?
Died: 13 November 2015, near Stade de France, Paris
A passport found near the dead body of a suicide bomber near the Stade de France carries the name of Ahmad Al Mohammad, 25, from Idlib, northwest Syria.
The fingerprints of the body match those of a person registered under that name in Greece in October 2015, according to the French prosecutor's office.
Read more here
Unconfirmed attacker
The picture of the third Stade de France attacker matches that of a man travelling under the name of M al-Mahmod, according to media reports.
The BBC matched the picture of a suicide bomber wanted by police in connection with the Stade de France bombings with a photo on the arrival papers of a man travelling as M al-Mahmod, who came to the Greek island of Leros on October 3.