Palestinian killed as Israeli forces mount undercover raid Hebron hospital
Comments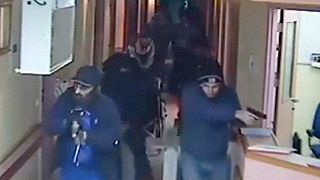 Undercover Israeli forces shot dead a Palestinian and seized a man suspected of stabbing and wounding an Israeli in a hospital in Hebron.
Closed circuit footage from the al-Ahli hospital in Hebron shows the group, one masquerading as a pregnant woman pulling guns on hospital staff.
Later the men, part of the undercover unit known as Duvedan are seen hustling their captive out of the hospital in a wheelchair.
Behind them lying dead in the hospital room from where Azzam Shalaldeh was taken was his cousin Abdallah.
The facts around the killing are disputed. Israel's Shin Bet security agency claim the victim attacked the Israeli forces. Azzam Shalaldeh's brother who was in the room said his cousin was shot without warning when he emerged from the bathroom.
Later hundreds packed streets in Hebron for the funeral of Abdallah Shalaldeh.
He is the latest to die in a surge of violence in which ten Israelis and dozens of Palestinians have been killed
.
Many of the Palestinians fatalities were shot carrying out stabbing attacks.