[IN PICTURES] How would these iconic cities look at +2ºC and +4ºC?
Comments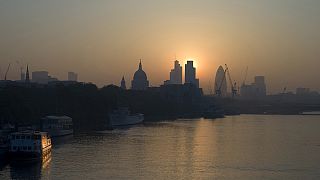 With the COP21 global climate conference due to start in Paris at the end of November, NGO Climate Central has released thought-provoking images of the potential effects of global warming.
It comes in the wake of a World Meteorological Organization (WMO) warning that levels of greenhouse gases in the atmosphere reached a record high in 2014.
The United Nations' weather agency issued graphs showing levels of carbon dioxide climbing steadily each year since reliable records began in 1984.
UK Met Office predictions for 2015 are also bleak. Data released on Monday (November 9) shows that this year is likely to be the first when "the global mean temperature at the Earth's surface is set to reach 1°C above pre-industrial levels."
Climate Central's images show the impact of rises in temperature of 2°C (the international target limit) and 4°C would have on sea levels in some of the world's most iconic cities.
London
New York
Durban
Shanghai
Mumbai
Sydney
Rio de Janeiro
Buenos Aires