Turkey's hidden basilica: Underwater and under wraps but not for much longer
Comments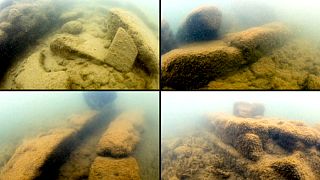 A hidden, underwater treasure from Turkey will soon be revealed to the world – a Byzantine-era basilica only discovered last year by chance, during an aerial photo-shoot.
The 1,600 year old Iznik Basilica lies within Lake Iznik in the Turkish northwest.
Hailed as one of the world's most important, most exciting discoveries, it will soon be open to world tourism.
That is because the basilica – built to honour Saint Neophytos – considered a martyr after being killed by Roman soldiers – is now to be transformed into an underwater archaeological museum.
That will further boost the province of Bursa – the first capital of the Ottoman Empire – already a UNESCO World Heritage site.
"Our aim is to make it a place where everyone can visit," Bursa Mayor Recep Altepe told euronews, outlining plans for a glass structure around the basilica, creating a sort of island in the lake.
"People will be able to go inside, live the history, live the atmosphere. We aim to have it opened within two years."
Experts believe the basilica collapsed during a massive earthquake in 740 AD.
A relic from the past it may be, but the hope now is that this long-forgotten underwater wonder has the brightest of futures ahead.