Turkey celebrates Republic Day amid media restrictions and election hype
Comments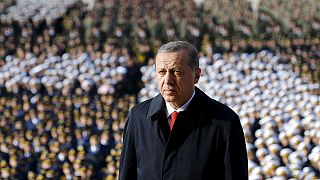 Turkish President Recep Tayyip Erdogan and Prime Minister Ahmet Davutoglu looked calm during a parade to celebrate Republic Day.
But behind a serene exterior, tensions are rising ahead of Sunday's legislative elections (November 1).
In spite of fresh restrictions being placed on certain media outlets in the country, Davutoglu has been visibly raising his public profile. An effort to mobilise voters, some say, after a June 2015 election saw his ruling AK Party lose the parliamentary majority it had held for 13 years.
Polls suggest the main opposition CHP will come out with the second-highest number of votes, after the AKP. But the HDP is likely to hold the key to the election result.
In June's vote, it became the first ever Kurdish nationalist party to surpass the ten percent needed for parliamentary representation.