Is this the antidote to the pampered players of European's top football leagues in England, Spain and Germany?
When Ergotelis midfielder Leonardo Koutri goes down claiming injury during a match in Greece, he is manhandled on to a stretcher.
The two stretcher-bearers then drop him twice before dumping him on the edge of the pitch.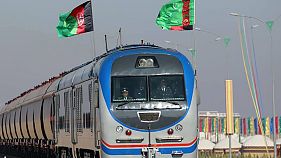 The presidents of Turkmenistan and Afghanistan on Monday officially opened a new railroad that will link the oil-rich former Soviet republic with Afghanistan.