Justin Trudeau sweeps to power in Canada on wave of change and optimism
Comments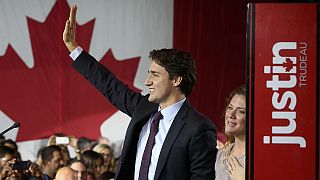 Canadians are still trying to come to terms with the breathtaking election victory of Justin Trudeau, son of the legendary Pierre who dominated Canadian politics for nearly 20 years more than three decades ago.
When Trudeau takes over the outgoing Stephen Harper's official residence he will feel at home. He was born there.
"Most of all we defeated the idea that Canadians should be satisfied with less, that good enough is good enough and that better just isn't possible," he said.
But he did not seem born to rule. Unlike the defeated Harper he entered politics late and dragged his Liberals from third place to overtake the Conservatives in the longest electoral campaign since the late 19th century.
Trudeau has promised that Canada will take at least 25,000 Syrian refugees, will enact complete environmental legislation within 90 days of December's Paris summit, investigate the disappearance of native Canadian women and give a new deal to Canada's native minorities, tax the rich to pay for infrastructure, legalise marijuana along the Colorado model, and end Canadian military engagement in Iraq and Afghanistan.