Oscar Pistorius to be released on Tuesday
Comments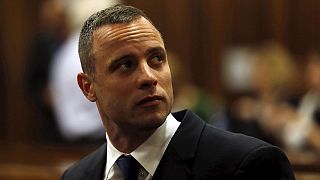 Oscar Pistorius will be released on parole next week.
South Africa's department of correctional services said that he would be placed under house arrest from Tuesday (October 20).
The Olympic and Paralympic track star is currently behind bars in the capital Pretoria where he is serving a five-year sentence for culpable homicide.
He was jailed after he fired four shots through a locked toilet door killing his model girlfriend Reeva Steenkamp on Valentine's Day 2013.
Pistorius was expected to have been released on parole last month, after serving ten months, but that was blocked after the judge said there was no legal basis for his release.
Under South African law, parole may be considered after serving one-sixth of a term, but as Pistorius had not, there was no legal basis for his release in August.
Pistorius still faces a Supreme Court appeal in November, when prosecuters will ask judges to overturn the initial trial verdict, the equivalent of manslaughter, and convict him of murder.