Thousands came out on the streets of Zimbabwe's capital for the biggest party of the year – the annual Harare International Carnival.
Sponsored by the Ministry of Tourism, the carnival aims to showcase Zimbabwe's diversity and promote unity in the southern African country.
But despite the jovial atmosphere some festival-goers were critical of the spectacle, saying the money would have been better spent elsewhere.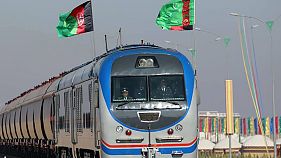 The presidents of Turkmenistan and Afghanistan on Monday officially opened a new railroad that will link the oil-rich former Soviet republic with Afghanistan.