Pride over Nobel Peace Prize win after turbulent year in Tunisia
Comments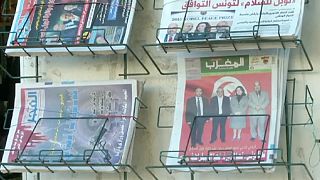 There is deep pride over winning the Nobel Peace Prize in the birthplace of the Arab Spring.
Tunisia can only rejoice. It can't be a bad thing
In a year when Tunisia has made headlines for massacres targeting tourists, the country's National Dialogue Quartet was rewarded on Friday for helping to build democracy.
"Those who receive this prize have something to say about peace and the respect of people and human rights," said retired Sliman Belkhouja in the capital, Tunis.
"Tunisia can only rejoice. It can't be a bad thing."
With a new constitution, free elections and a compromise politics between Islamist and secular leaders, Tunisia has been held up as a model of how to make the transition to a democracy from dictatorship.
The quartet of the Tunisian General Labour Union (UGTT), the Tunisian Confederation of Industry, Trade and Handicrafts (UTICA), the Tunisian Human Rights League (LTDH), and the Tunisian Order of Lawyers was formed in the summer of 2013.
It helped support the democratisation process when it was in danger of collapsing, the Norwegian Nobel committee said in its citation.
"After the revolution, we entered an economic recession," said teacher Habib Barhoumi.
"But things are getting better and I hope that within one or two years the situation will improve. Tourism and everything will be better."
Tunisia's Nobel Peace Prize bolsters fragile democracy http://t.co/UJ2hp6pBlOpic.twitter.com/KMziNxD8fu

— Agence France-Presse (@AFP) October 9, 2015
That hope is shared by many although this year's Islamist attacks are a bitter reminder that real problems remain.
In March, Islamist gunmen killed 21 tourists at the Bardo Museum in Tunis, and 38 foreigners were killed in an assault on a Sousse beach hotel in June.