Ankara: More than 80 killed in twin blasts Turkey blames on terrorism
Comments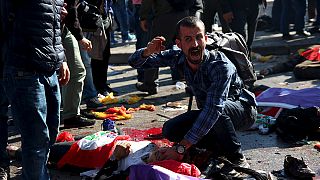 Bodies could be seen scattered across the road after twin blasts rocked the Turkish capital.
Turkey's Health Minister, Mehmet Muezzinoglu, told a news conference at least 86 people have died, while more than 186 were injured in the city-centre explosions. Some 28 people are said to be in intensive care.
The incident occurred near the exit of Ankara's main train station, at 10.04am local time.
Turkish government officials say they are treating the incident as a terrorist attack.
Reuters reports a senior Turkish official has confirmed at least one of the blasts was apparently the result of a suicide bombing. No vehicle was destroyed, the official noted.
A ban has, reportedly, been imposed in Turkey, forbidding direct images of the bomb blasts from being broadcast.
Eyewitnesses say human flesh could be seen at the scene.
Turkey says today's explosion in capital Ankara was a "terrorist attack" http://t.co/2U4w6S0zaZpic.twitter.com/JaHzsANqUI

— AlertNet (@AlertNet) October 10, 2015
Peace march
Thousands of People's Democratic Party (HDP) supporters were reportedly expected to take part in a peace march through the capital around the time of the explosions.
The planned march was in protest over the conflict between the state and the outlawed PKK Kurdistan Workers' Party in Turkey's south east.
The pro-Kurdish HDP Party has blamed the ruling AK Party for the attack and has cancelled forthcoming rallies for the November 1 general election. Leader Selahattin Demirtaş labelled the government "a murderer."
Elections were rescheduled after a June vote proved inconclusive.
PKK

'to halt guerilla activities'

Shortly after the blasts, a news website close to the PKK reported the group had called on its fighters to halt guerilla activities in Turkey unless facing an attack.

The PKK's aim, it is reported, is to avoid action which may prevent a "fair and just election" being held.