Turkey said to offer Russia cooperation over Syria to reduce tension
Comments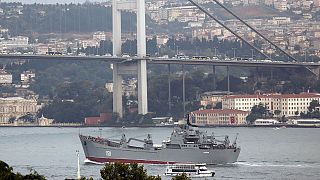 Russia says Turkey has offered to help coordinate military aircraft activities relating to Syria.
It comes as tensions have risen after Turkey accused Russian of violating its airspace.
On Tuesday Moscow announced its planes had flown around 20 sorties in its air operation to support the Syrian army. It has admitted straying briefly into Turkish airspace by mistake.
Russian Deputy Defence Minister Anatoly Antonov welcomed the idea of Turkish cooperation:
"We would be glad to talk to representatives of Turkey's ministry of defence with whom we could discuss all the technical aspects so that at least we would avoid the misunderstandings which may arise while our military are fulfilling tasks set by the commander-in-chief in Syria."
Russia's military released more footage on Tuesday (Oct 6) said to show what it describes as 'terrorists' moving arms close to civilian centres in Syria.
NATO disputes the aims of Moscow's air campaign and rejects the Turkish incursion as a mistake.
It also says Russia may be targeting ISIL but it is also striking Syrian rebel areas and is negligent of civilian deaths.
NATO claims to have reports of a substantial Russian military buildup both on the ground and at sea at its Latakia base in Syria.