Hajj stampede victims' bodies flown back to Iran
Comments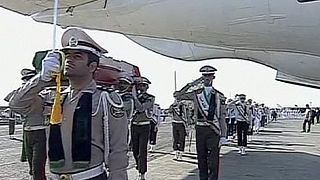 The first plane carrying the bodies of Iranian pilgrims who died in the hajj stampede in Saudi Arabia landed in Tehran on Saturday.
President Hassan Rouhani and other officials were at the airport to witness the event.
The disaster nine days ago increased tensions between the two regional rivals.
Of the 769 victims 464 were from Iran.
Tehran has blamed Saudi "mismanagement" for the stampede. Two columns of pilgrims converged on a narrow street leading hundreds of people to die through suffocation or being trampled.