Ronaldo equals Real Madrid's scoring record
Comments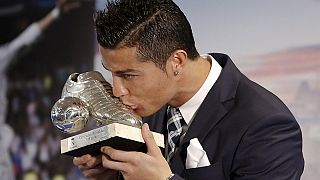 Real Madrid have honoured their star player Christiano Ronaldo, who has equalled the club goalscoring record previously held by Raul.
There is a bit of a dispute over a 2010 goal attributed to centre-back Pepe whose boot reportedly got in the way, but Ronaldo is not counting.
"I would never have imagined when I put on this shirt for the first time that I would be the team's best goalscorer in history and to be able to overtake my friend Raul and leave Alfredo Di Stefano far behind, what can I say? I am very happy," he said accepting a trophy.
Ronaldo has also achieved the feat, 324 goals, in seven years at the club. It took Raul 14.