Pope Francis takes the UN by storm with hard-hitting appeal to save the environment
Comments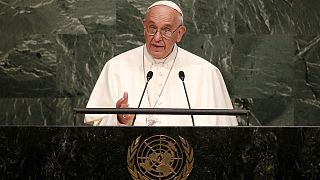 Pope Francis's much-awaited address to the United Nations was a dense philosophical and ethical argument for mankind to face up to the real possibility of extinction if it does not confront the problems of environmental destruction, exclusion, and warfare.
Pausing repeatedly for applause, he railed against the domination of the weak by the strong, and the neglect of collective security in the pursuit of individual, state, or corporate power.
"War is the negation of all rights and it's a dramatic assault on the environment. If we want true, integral human development for all, we must work tirelessly to avoid war between nations and between peoples," he said.
He condemned the drugs and arms trades for their ability to corrupt, and linked the former to slavery and prostitution, and praised the deal
halting Iran's nuclear weapons development as a sign progress could be made with good will.