Matthias Mueller expected to be named new Volkswagen CEO
Comments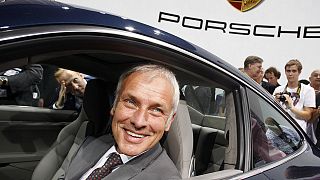 Volkswagen is expected to name Matthias Mueller as its new chief executive at a meeting of the car maker's supervisory board this afternoon (September 25).
Mueller is in the running along with VW brand CEO Herbert Diess and Rupert Stadler who runs VW's Audi brand.
The new CEO will replace Martin Winterkorm who quit the German carmaker amid a deepening scandal over its rigging of diesel car emissions tests in the United States.
Germany's transport minister said Volkswagen had manipulated tests in Europe too.
He said Europe would agree on new emissions tests on coming months that should take place on roads rather than in laboratories and that random checks would be made on all manufacturers.
Winterkorn oversaw a doubling in sales and a near tripling in profit during his eight-year reign.
Today's board meeting had originally been due to extend his contract.