Cuba: Thousands attend Pope's mass, dozens denied entry, reports suggest
Comments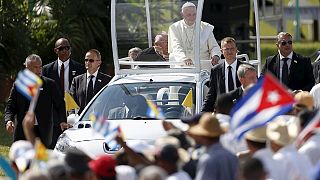 Pope Francis has so far avoided overt discussion of Cuban politics during his first ever trip to the communist-run island.
The 78-year-old Argentine pontiff has stuck mostly to spiritual messages, although he has called for tolerance, particularly in relations with the US.
Current President and atheist Raul Castro welcomed the pope and has expressed hope Francis will speak out against Washington's economic embargo against Cuba before leaving for the US capital.
Francis will fly from the capital Havana to Washington on Tuesday (September 22).
Latin America's first pope has been widely praised for supporting negotiations that led to the restoration of diplomatic ties between the two countries.
Thousands attended his second Mass on the island in Holguin, the capital of the eastern province where the Castro brothers were born.
However, a local human rights group said between 50 and 60 dissidents had been detained and several dozen more placed under house arrest by state security agents. Other reports suggest people were either denied entry or warned not to attend.
An earlier Mass in Havana was followed by a visit to revolutionary leader Fidel Castro.