Clashes took place at Jerusalem's most sensitive holy site, Al-Aqsa Mosque, just hours before the onset of the Jewish New Year.
Israeli police said protesters – amid reports they were planning to disrupt visits to the area by Jewish worshippers – threw rocks and firecrackers at officers as they barricaded themselves inside the mosque.
There were no reports of arrests or injuries. Police later said they had restored calm at the hilltop compound, revered by both Jews and Muslims.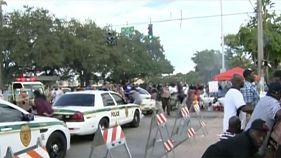 Eight people, including five juveniles, have been wounded in a shooting at a park in Miami.