Hungary's PM stands firm over tough approach to migrants
Comments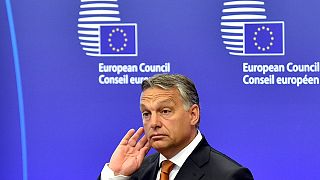 Hungary's prime minister is standing by his tough approach to dealing with the migrant crisis.
Viktor Orban, who has been meeting officials in Brussels, says people should not risk their children's lives by trying to reach Europe.
There is chaos in Hungary, with thousands of migrants being barred from travelling further.Budapest blames Berlin for the problems.
"There is one solution. If Germany really invited them to Germany, then they should provide them with a visa. If they have a visa, we will allow them to leave the country," said Orban.
"But without a visa and without registration, we can't let anybody through Hungary."
Orban has also renewed his criticism of EU proposals for national asylum seeker quotas. It is rumoured that Hungary's share could be cut, but Orban claims there is no such plan.
"Quota means that there is a solution to deal with those who would like to come to Europe. Instead of, to make clear, please don't risk, don't come," said the prime minister.
Orban insists that Hungary does not want to accept Muslim refugees.
He defends a razor wire fence thrown up on the border with Serbia and says he will do the same on the Croatia border, if necessary.
Speaking from Brussels, euronews correspondent Sandor Zsiros said: "Viktor Orban had talks in Brussels all day, but EU leaders could not convince him that the common (EU) migration policy would benefit Hungary. He still thinks that the number one priority is securing the external borders. Everything else comes after this."