Turkish soldier missing on Syrian border after shootout with ISIL
Comments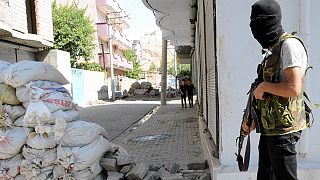 Two wounded Turkish soldiers have been rushed to hospital in Turkey's southeastern province of Kilis after cross-border fire from ISIL extremists in Syria. One of the soldiers later died A third has been reported missing.
His fate raises the spectre of another possible hostage scenario involving Turkish citizens.
Turkey has a 900km long border with Syria. It has been a reluctant partner in the fight against ISIL extremists , but in July stepped up its involvement, launching air strikes and opening its air bases to the US-led coalition.
Diplomats say Ankara's decision to launch attacks against ISIL has increased the risk of reprisals
Turkey's security headache has further worsened since the July collapse of a ceasefire with the Kurdistan Workers' Party (PKK), sparking a new wave of tit-for-tat attacks across eastern Turkey that have killed hundreds of people.
On Tuesday (Sept 1) a police commissioner and a fellow police officer were wounded in the eastern province of Batman after suspected PKK staged an attack on the car in which they were traveling.