Sewage spill hits Honolulu's Waikiki Beach
Comments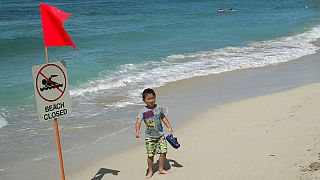 Authorities in Hawaii have advised beach-goers to stay out of the water at least through Wednesday (August 26, 2015) following a massive sewage spill.
Health officials are testing a 6 kilometer stretch of waterfront around Waikiki Beach after floods sent nearly 2 million litres of wastewater streaming over from Honolulu and its zoo.
"Don't take the risk. We don't know right now what is in the water. You could get a serious infection, get extremely sick or even worse," said Shayne Enright, spokeswoman for the Honolulu emergency services department.
Still, dozens of beach-goers at this major tourist destination ignored the warning signs and went into the water.
Locals were more cooperative – likely put off by the thought of swimming alongside human and animal feces.
Peter Parhar, visiting from Vancouver, said the English language speakers had likely understood the warning fairly clearly and stayed out of the water.
"For the tourist segment that isn't English speaking, they have no idea what's going on," he said. "And they're carrying little infants into the water."
The spill was triggered by heavy rain from a tropical storm that caused the Honolulu Zoo to flood and manhole covers to spit up sewage. The brown water then went into storm drains and into the ocean.