Kos: Greece brings in a ferry to process migrants
Comments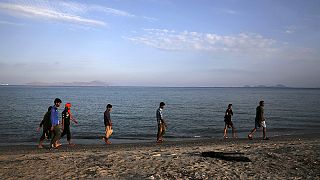 Refugees from Syria have begun registering on a passenger ferry moored in the harbour at Kos.
We are reaching a point where we cannot give anymore help because it's too much
The aim is to help the small Greek island cope with the recent influx of migrants from across the Mediterranean.
Syrian migrants watch the arrival of the Eleftherios Venizelos ferry from the Greek island of Kos pic.twitter.com/nqew9tNDDS

— Agence France-Presse (@AFP) August 14, 2015
Syrians have priority as they are fleeing a conflict situation.
But there is anger at what is seen as preferential treatment.
"I have been waiting for help but have not had any," one young man from Iraq told reporters. "The only help is for Syrians. They don't know what has happened in Iraq, in Pakistan, in Iran. This is a big problem. If I tell them I am from Iraq, they send me away. They tell me to go away."
Stark warnings from
NGO

s

Services on Kos are stretched to breaking point.

Thousands have made the perilous sea journey from the Middle East and North Africa and are sleeping rough.

NGOs are doing what they can but there are stark warnings.

"We are asking the authorities to help us. We are alone. We are alone and this place is impossible to work in, it's impossible to provide assistance for people who are here for 20 days. We are reaching a point that we can not, we can not give anymore help because it's too much." said Medecins Sans Frontieres Communications Officer Julia Kourafa.

Official figures suggest nearly quarter of a million migrants have crossed the Mediterranean to Europe this year already.

In the battle to cope with Europe's growing migrant crisis, the tiny island of Kos has found itself on the frontline.