Earth Overshoot Day...Pushing Mother Nature too far
Comments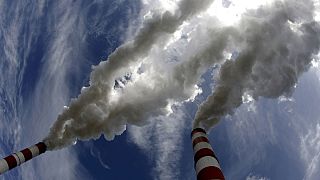 Today, August 13, is Earth Overshoot Day, meaning that in less than eight months this year, humanity has already used up the resources Mother Nature can provide for the whole of 2015.
In other words, we are in ecological debt.
It's Earth #Overshoot Day. In <8 mth our demand on nature exceeds what Earth can renew this yr http://t.co/P6jhPjqDQIpic.twitter.com/fKcc9Y9bNp

— Footprint Network (@EndOvershoot) August 13, 2015
The calculation comes from Global Footprint Network, an environmental think-tank that monitors mankind's impact on the planet.
Earth went into overshoot in the early 1970s it says and it is coming round earlier and earlier as the years go by – possibly arriving in June by 2030 unless we change our ways.
This year's Earth Overshoot Day comes six days earlier than in 2014.
Methodology
Using data provided by the UN, Global Footprint Network compares the ecological footprint, which measures the human demand for earth's natural resources, with the biocapacity of the planet – its ability to regenerate resources and absorb waste, such as emissions of greenhouse gasses.
It thus determines the day of the year when the ecological footprint exceeds the biocapacity.
So in 2015, "Overshoot day" is today, August 13.
In 1970, it was December 23.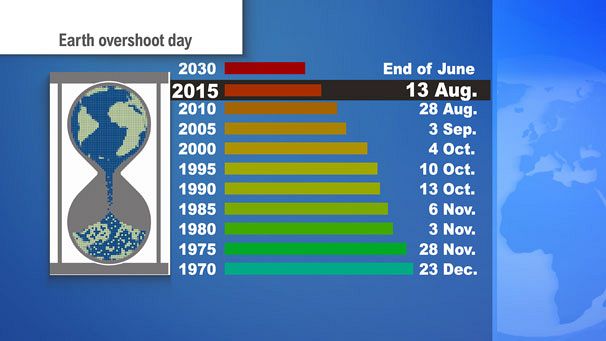 Why?
Factors behind the increase can be linked with population growth and rising living standards in the so-called BRICS group of emerging economies – Brazil, Russia, India, China and South Africa.
"The estimated level of resources and ecosystem services required to support human activities today is just over 1.6 Earths," according to Global Footprint Network.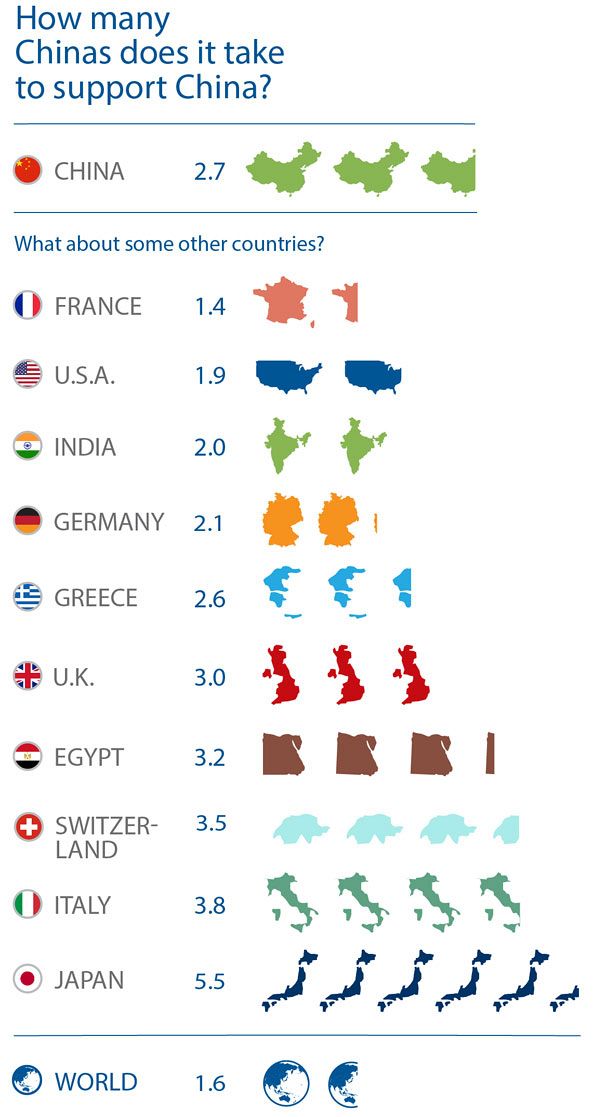 Global Footprint Network says that humanity's carbon footprint has more than doubled since the first overshoot and that the results of our ecological overspend are becoming more evident by the day.
Symptoms include water shortages, desertification and deforestation.
Unsustainable deforestation could mean the end of #orangutans in Borneo http://t.co/8VUjvzgeUD#endangeredspeciespic.twitter.com/JbvbxID5Gt

— Greenpeace (@Greenpeace) August 6, 2015
COP21
The global climate talks at the United Nations Conference of Parties (COP) 21 this December in Paris may require nations to implement policies to phase out fossil fuels, which would directly impact humanity's ecological footprint.
The talks will be key to addressing the ailing earth's plight, with campaigners hoping they can and will make a difference.