Twelve arrested in Pakistan child sex abuse scandal
Comments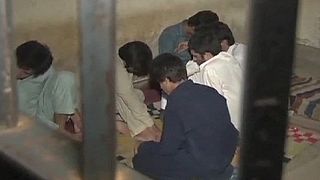 Police in eastern Pakistan have arrested at least 12 men suspected of sexually abusing hundreds of children and blackmailing their families.
The case centres on a village near the city of Kansur where up to 280 children, mostly under 14-years-old were abused and filmed, and the videos used to extort money from the parents.
Many families accuse the police of failing to act on the allegations of abuse.
A mother of one of the victim's said,"They (police) did not register a case, but instead of registering a (report), they took my son into custody. I pleaded before the SP (Superintendent of Police) that he was innocent." She added that her son remained in jail.
One victim told reporters of his ordeal.
"They drugged me and abused me, they made a video, they blackmail me often with the video they had made and they were demanding money and jewellery from me."
The scandal has provoked widespread outrage in local media, with Pakistani newspapers pointing towards a politically-influenced cover up.
More to follow.