Wildfire forces US town to evacuate as 'Rocky' rages on
Comments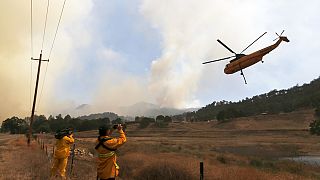 A fast-moving grass fire has forced an entire town to evacuate in the US state of Washington.
A mandatory evacuation order was issued for Roosevelt, obliging hundreds of people to flee. With fire crews focussed on saving residents' homes, some vehicles left behind fell victim to the flames.
The biggest challenge though is in California where some 10,000 firefighters have been battling more than 20 wildfires – none bigger or more ferocious than the blaze dubbed 'Rocky'.
It has destroyed dozens of buildings, with 13,000 people told to flee.
In California, more than 10,000 firefighters are battling 22 wildfires, including Rocky fire http://t.co/qXRCLdqGY6pic.twitter.com/AoS6rj3k1s

— Los Angeles Times (@latimes) 4 Août 2015
Helped by light rain, crews have made progress in building a buffer between the flames and thousands of homes.
But a rise in temperature has been forecast in this drought-parched region with hot, dry conditions set to persist throughout summer.