FIFA chief Blatter showered in fake bank-notes by prankster
Comments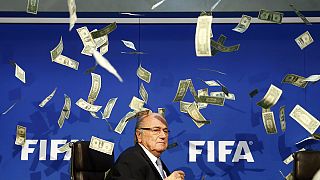 Sepp Blatter's press conference to announce FIFA reforms got off to an embarrassing start when he was showered in fake bank notes by British comedian and prankster Simon Brodkin.
After a brief delay for a clean up of the notes by organizers the embattled FIFA chief regained his composure to announce the presidential election date to elect his successor whilst also hinting at his own future plans.
He said: ''On the February 26 FIFA will have a new president and I think I will come back to my work, it was little bit my hobby I have to say as a journalist.''
At the press conference in Zurich, Blatter also announced the creation of a task force to look at reforming football's scandal-hit world governing body.
He said: ''We have decided to have a task force, 11 people – ten players and a coach but the coach is a playing coach. He will be an independent personality, we will decided together with the president of the confederation who will be this personality to chair the reform task force.''
Blatter added the reform proposals will include term limits for presidents and integrity checks for top FIFA officials.
Four days after being re-elected in June Blatter announced he would stand down following a string of corruption scandals that led to several arrests within his organization