S.Korea steps up efforts to eradicate MERS as seventh person dies
Comments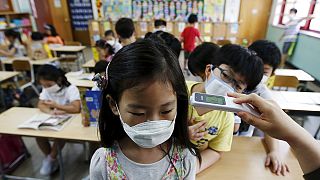 A seventh patient has died in South Korea of Middle East Respiratory Syndrome known as MERS. There have also been eight more reported cases bringing the total to 95.
The first Mers case in South Korea was a man who became infected during a business trip to Saudi Arabia, where the disease was first identified three years ago.
Since then ( May), the South Korean government has introduced preventative measures to curb the spread of the virus for which there is no vaccine or specific treatment.
Demand for protective face masks has risen dramatically as the number of deaths rise.
One pharmacist said stockists had been taken unawares by the sudden outbreak:
"Local mask companies and suppliers , even importers like 3M don't have enough products. We can only sell about 600 masks a day even though 1,000 masks are in demand. It means demand is greater than supply," Lee Jong-min told a reporter.
About 2,300 people have been placed under quarantine and nearly 1,900 schools have been closed in a bid to control the biggest outbreak of Mers outside the Middle East.
While there has been no sign of panic among the wider public, sports and entertainment events and places where large numbers of people normally gather have been poorly attended.
MERS is caused by a new type of coronavirus, a type of virus which includes the common cold and Sars (severe acute respiratory syndrome).
Symptoms include fever, cough and breathing difficulties, but Mers can also cause pneumonia and kidney failure.
Hong Kong to issue 'red alert' travel alert to South Korea as MERS spreads http://t.co/X6iih6hcmCpic.twitter.com/Q1KJVPgstp

— Reuters China (@ReutersChina) June 9, 2015