Ivory Coast 'Suitcase boy' reunited with mother
Comments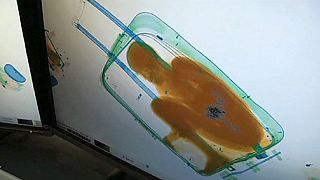 An eight-year-old boy from the Ivory Coast who was found being smuggled into Spain in a suitcase has been reunited with his mother.
Adou Ouattara was discovered in the luggage without any air vents on May 7.
Since then he has been cared for at a centre for under age migrants in Cueta – a Spanish enclave in North Africa – while DNA test confirmed who his parents were.
He was being carried by a 19-year-old Moroccan woman who has not been named.
The family has posted bail for the boy's father who was arrested at the same border crossing, on charges of human rights abuse.
He claims he knew nothing of the suitcase plan, believing his son would be brought with a visa he had paid for.
Both parents are living legally in Spain's Canary Islands and Adou has been given a one year residency permit.
The boys father had been denied the right to bring him over at first as he already has three children with him and his monthly salary fell short of the 1,333 euros required by law to look after four children.