Hundreds of supporters wearing wigs and painted faces paraded through central Vitoria in northern Spain in support of Aiala Zaldivar, Ibon Esteban and Igarki Robles, members of the pro-Basque separatist group Segi that were condemned to six years in jail by the Spanish high court.
The three members of the group were arrested after police cleared an improvised human chain protecting them.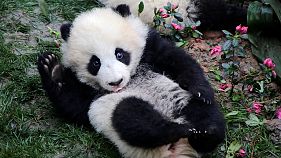 Giant pandas around the globe are welcoming the Spring Festival, or Chinese Lunar New Year, which falls on January 28 this year.