'Mad Max' remake: feminism triumphs at Cannes Festival
Comments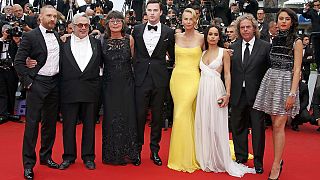 "Mad Max: Fury Road" has taken top billing at the second night of France's Cannes Film Festival.
Director George Miller had a huge hit with the original trio of "Mad Max" films, starring Mel Gibson.
In the reboot, which was years in the planning and making, Charlize Theron stars alongside
Tom Hardy who plays Max.
Initial reviews of the new movie have been highly positive.
#Photocall#Cannes2015 – AN de Naomi Kawase, Film d'ouverture/Opening Film Un Certain Regard pic.twitter.com/2Sf9FqNmqO

— Festival de Cannes (@Festival_Cannes) May 14, 2015
Meanwhile Japanese director Naomi Kawase's movie "An" opens the Un Certain Regard selection. It's a subtle and moving story about an old woman with a broken fate.
Euronews correspondent Frédéric Ponsard reported: "Cinema in all its forms is being celebrated in Cannes.
"The remake of Australian blockbuster Mad Max surprisingly turns out the be a triumph of feminism. While Japan presented a sweet and intimate feel-good movie.
"Two completely different films being celebrated on the red carpet. That's the magic of Cannes."
At the press screening of #NaomiKawase's AN #Cannes2015#CannesFilmFestival#UnCertainRegard#NMCannes15pic.twitter.com/Z0tatwOKFA

— Chiara Sélavy (@ChiaraSelavy) May 14, 2015