Germany helps rescue 300 migrants, as row grows over EU plan
Comments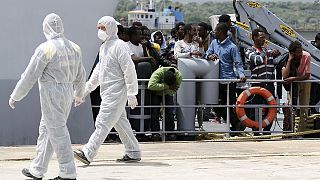 A newborn baby is among nearly 300 migrants taken ashore at the Sicilian port of Pozzallo.
A German frigate was involved in the rescue of the migrants in three separate operations, and it comes a day after the British navy brought ashore some 600 migrants.
The rescues are part of the European Unions boosted search and rescue patrols in the Mediterranean.
But there is growing controversy about who actually takes in the migrants while their asylum cases are assessed.
The EU is proposing to introduce a quota system, whereby migrants are more fairly distributed around the bloc.
However, Poland has now joined the UK and Hungary in rejecting the plan.
Already this year more than 50,000 migrants have entered Europe by crossing the Mediterranean and there have been about 1,800 known drownings.