Gunmen in Pakistan kill 43 in bus attack
Comments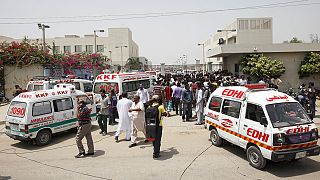 At least 43 people have been killed and another 20 injured when gunmen opened fire on a bus carrying Ismaili Shi'ite Muslims in Pakistan's southern city of Karachi.
Police said that up to six armed men on motorcycles stopped the vehicle and opened fire on the bus in the Safoora Goth area of Karachi when it was en route to an Ismaili place of worship.
Jundullah, a splinter group of the Pakistan Taliban has claimed responsibility for the assault. A spokesperson for the group issued a new threat to attack Shit'ites and Christians.
It is the latest in a string of assaults targeting religious minorities this year, many of whom blame the government for not doing enough to protect them.