Putin accuses US of creating a "unipolar world"
Comments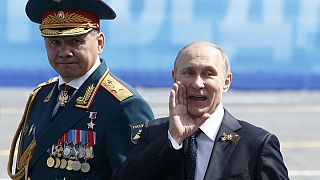 The Russian President has used the 70th anniversary of the end of World War Two to launch a thinly veiled attack on the United States.
In his annual Victory Day address, Vladimir Putin said despite the importance of international cooperations, the peaceful coexistence of nations was endangered by "attempts to create a unipolar world."
However, he praised the allied contribution to combating Hitler.
"This great victory will forever remain a heroic highpoint of our country's history," he said.
Putin later led a rally, known as the Immortal Regiment march, with people holding pictures of relatives who fought during the war. Police say more than 250,000 people joined the rally through Red Square in one of the largest turnouts in the country's recent history.
World War II is called the Great Patriot War in Russia and to mark this year's commemorations, the country staged what has been described as the world's biggest ever military parade.
More than 16,000 soldiers, sailors and airmen took part in a march across Moscow's Red Square.
The undoubted star of the military hardware on show was the T-14 Armata tank which Russia says is the most powerful, in its class, in the world.
Intercontinental strategic ballistic missiles also took pride of place as fighter jets roared over the city centre.
"Victory day is the most important holiday for Russia. In practically every Russian family, someone has died fighting for this country," said former marine Alexander Smolkin.
There were smaller but similar demonstrations of Russia's military might in dozens of other cities across the country.
Several foreign states also took part in the show of strength, among them China, India, and a number of former Soviet republics.
But the parade was marked by the absence of dozens of Western heads of state, most notably European Union leaders who stayed away in protest over Russia's annexation of Crimea last year and its stance over Ukraine.
The ceremony ended with the laying of a wreath at the tomb of the unknown soldier.