Security footage of a koala wandering unhindered through the emergency ward of an Australian hospital has become the latest viral video on the internet.
Security cameras captured the koala, an Australian native marsupial, strolling through the automatic doors of the emergency department at around 3:30 am.
Staff at the Hamilton Base Hospital in regional Victoria apparently knew about the unexpected visitor but decided to leave the animal to its own devices, local media reported.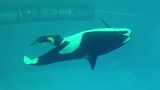 The last killer whale to be born at SeaWorld was delivered on Wednesday, April 19, at the company's San Antonio park.